Unless you approach Machu Picchu via the Inca Trail, all tourists going there MUST take the train from Cuzco or at least from Ollantaytambo to Aguas Calientes. Round trip, with only 30 kilometers each way, costs an incredible 57 USD per persons from Ollantaytambo in the backpacker train. The more comfortable Vistadome costs no less than 76 USD.
Perurail has a monopoly on the route and therefore can ask for whatever they want! There are additional cheap, local trains that cannot be used by tourists, but only Peruvians, which is fair enough. Although the segregation is rather strict, Hedwig, our host in Nasca and a Dutch citizen, could not travel together with her Peruvian husband when going to Machu Picchu.
Actually, there is a way to avoid the expensive train, but it involves taking two buses from Ollantaytambo and then a four hour trek to Aguas Calientes. It is really time consuming and only a few hard-core, penny pinching backpackers choose this way. Endless talks about opening up the railways to competitors and private investors have been going on for years without any result so far.
Giving the exorbitant price for the train ticket, the 40 USD entrance fee per person to Machu Picchu just seems in line, together with 12USD for the bus from Aguas Calients to the entrance of Machu Picchu, which makes it one dollar per km.
Since it was our choice to go there and spend this kind of money we do not consider it as scandalous as many other tourists, although in a country where a good meal in a local "Quinta" sells for 1 USD, it may leave you wonder.
The trip in the "Backpacker Train" is actually pleasant and offers a descent level of comfort and the part following the Urubamba River is very scenic. The Conquistadores followed this river when discovering and then conquering the area.
Of course we spent one night in Aguas Calientes, so that we would be able to take the first bus up to Machu Picchu and be there at sunrise, way before hundreds of people traveling with tours would arrive. We expected the worst of Aguas Calientes, having read the Lonely Planet and a few other travel reports.
Well, we did actually enjoy the city very much. Yes, it is a tourist zoo! Every few meters somebody is holding a menu in your face or alpaca knitting, but that is the game. We had excellent food for 10 – 15 soles at the Inti House and a huge room with all comforts at El Tumi was 20 USD, at least in the lower season. The latest promotion tool is a Happy Hour offering four drinks for the price of one. Needless to say we tried that too, which makes two Pisco Sour per person, just perfect!
We left with the first bus at 05.30 am so that we would be in Machu Picchu at precisely 06:00 when the gate opens and shortly before sunrise. Actually we went to the bus station at 05:10 am, because we knew it would not be just one bus going up at that time, but enough busses to take anyone waiting. We managed to be in the second one, looking back a quite a number of people waiting …
WATCHING THE SUN RISE OVER MACHU PICCHU IS MAGIC! No matter how often it has been said … We both had very high expectations and were a bit afraid of finding something that was only "fashionable" and too well marketed. Well, Machu Picchu DID surpassed all our expectations! This place just puts a spell on you. If you do it right!!!
We were at the gate at 06:00 o'clock, taking the 05:30 o'clock bus from Aguas Calientes, together with about 200 other people. Once inside, we immediately climbed up the stairs as fast as we could to get to THE place where the world famous postcard photo was taken. We stopped only to catch our breath and then suddenly there it was, just laying in front of us, untouched, quiet, nobody inside, only some lamas and alpacas leisurely grazing down at the grassy bottom.
The next 15 to 20 minutes we spent there were simply incredible. We were able to absorb the uniqueness of the place in total serenity, when we noticed that the sun was just peaking around the mountain top opposite, about to touch Wayna Picchu, the mountain behind, and the ruins. We patiently waited for the whole of Machu Picchu to be bathed in the early morning sun, covering it with a different color by the light. Unique, especially because the site was designed in a way that no building would cast a shade on another building!
What makes Mach Picchu so special is the scenery that surrounds it, lush green cone shaped mountains all around it and the river below. It is indeed one of the most beautiful places we have ever been.
Apart from this overwhelming first impression, we discovered that the "Lost City" of Machu Picchu is in an astonishing state, much better preserved than any other Inca ruins we have seen in the last four weeks. We just could not take our eyes off this unbelievable view for more than half an hour. Then it was time to let go and to climb down to the ruins, because by then the first groups had arrived with their guides talking away in all kinds of languages. The people who took the first busses like us were all individual travelers, who quietly marveled.
Machu Picchu's fame also stems from its history: undetected and thus not destroyed by the Spanish, only to be discovered in 1911 by American historian Hiram Bingman, who did not stumble across it by accident, but was guided to it by a local farmer. At that time the sight was completely overgrown with thick vegetation, but a few local people knew about the existence of the ruins. Bingham was actually looking for Vilcabamba, the last stronghold of the Incas against the Spanish, which was later found much deeper in the jungle. Well, apart from that, scientists have not been able to explain the very purpose of Machu Picchu, though concluding from the high-quality of the stonework it must have been an important ceremonial center.
We had decided against hiring a guide, because we wanted that unspoiled impression and used our guide book to navigate us through the complex. Often we were listening in to guides explaining the history and purpose of the various areas, mastering four languages between the two of us came in handy again.
There are many theories about Machu Picchu, and every guide's explanation differs a little. We even heard the theory that the Conquistadores actually knew about Machu Picchu but did not bother destroying it, because it was abandoned. In such a case it would have been futile to build a church upon a temple which was the main concern of the Spanish, to wipe out non-Christian beliefs.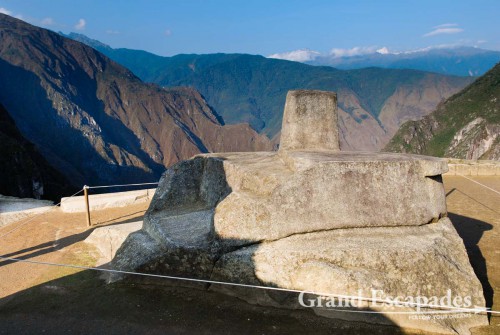 Naturally we first explored the ceremonial section, because there you find the finest stone work, the highlight being the Intihuatana, a little pillar, which the Incas used to predict the solstices of the sun. The stonework you find in the residential and industrial sector is much less refined, although not least impressive.
After about an hour of exploring the ceremonial section of Machu Picchu, we decided it was time to climb Wayna Picchu, the world famous mountain "behind Machu Picchu", before it was getting too hot. It is a one hour climb for averagely fit people as we are, but not that difficult because early morning the trail, basically stairs, is in the shade. Only four hundred people are allowed to climb each day, and at 10:00 am, right when we returned, the quota had been reached. You can only wonder what it must be like in July or August, the high season.
The view from the top is outstanding, especially since from above you can see the whole of Machu Picchu. It is only then when you realize that a large part of it consists of terraces and only a smaller part constitutes the temples, the residential and industrial part with its storages. From atop you can also see the last bit of the world famous Inca Trail with the Sun Gate!
Climbing down from the very top part of Wayna Picchu proved quite a challenge for Gilles, being confronted with extremely steep stairs and sometimes just ladders. On top of that, there was not much leeway for mistakes, the slope dropped abruptly several hundred meters down. Gilles then remembered that he actually had a strong fear of the heights. So he decided to glide down the stairs slowly on his bottom, sometimes choosing to crawl on all fours facing the mountain. The few hundred meters almost took us half an hour, with Heidi explaining in her teacher-like tone that it did not bother her at all, which is true.
Once we got back down into the archeological park of Mach Picchu, we had an extremely funny experience: some resident lamas, alpacas and vicunas of Machu Picchu went on a "tour through their city". It was hilarious, them walking confidently and determined with their heads up past puzzled tourists. It seemed as if they knew exactly where they were going, leaving the tourists not knowing whether they should laugh, take photos or get out of their way quickly.
At 11:00 o'clock we were exhausted and took the bus back to Aguas Calientes, zigzagging the 12 km down the mountain. We got off the bridge crossing Rio Urubamba, making a quick stop at the small but very interesting "Museo de Sitio Manuel Chavez Ballón".