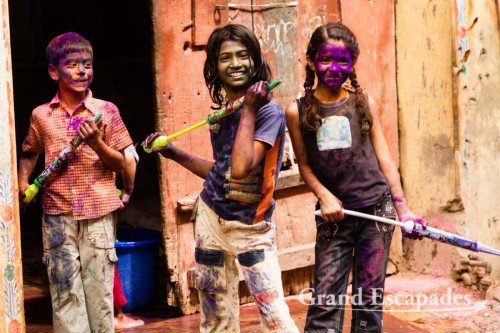 The Holi Festival heralds the arrival of spring. At this Hindu "Festival of Colors", Indians throw color onto each other and wish each other "Happy Holi".
In 2013, we were in small town Bundi / Rajasthan around Easter and found ourselves in the midst of this truly crazy event. We had no idea it was taking place at this time of the year and were so happy to be part of it…
Two years later, we were in a much more serious affair, the Holi Festival in Udaipur, home of a real Maharaja who throws his own Holi party up the hill in his palace. First of all, we were better prepared and bought a cheap outfit (T-shirt, trousers, flip flops) that we could throw away, if the colors would not come out.
We started at around 09:00am and were quite surprised to find a very sleepy center of Udaipur. The guys selling the colors told us to wait until 10:00 am. We did not, and went for a long stroll, as far away as possible from the tourist ghetto. And it did not take long before the first group of youngsters preyed upon us and gave us our first "Happy Holi", with a good quantity of color on our heads and cheeks.
Like two years ago, we noticed the Holi Festival is more or less a men's affair. Hardly any women were seen in the streets, a few girls were hiding on upper floors throwing water bombs at the people below.
The first two hours were a very gentle and funny affair of exchanging "Happy Holi", putting colors on the other people's faces, smiling or laughing. Small children were hiding behind their parents at the sight of those foreigners.
After a few hours the atmosphere turned, with groups of kids or youngsters throwing buckets of colored water at just anyone around and leaving people covered with god knows what.
Around noon it was time to call it a day and seek refuge in our hotel. Taking a long thorough shower was not enough; we still were plagued by a rather sickish complexion. Our camera proved Holi-resistant, even layers of colors did no harm and it is almost clean again…